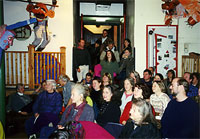 Write Action is an organization that was formed to support and benefit writers and the writing community in the greater Brattleboro, Vt., area, which includes Windham County and beyond, and a portion of Southern New Hampshire. Write Action promotes writing contests, donates to worthy causes, supports the Arts Alliance, recognizes good writing through annual awards, and acts as a conduit for news about writers and writing in the area, as well as maintaining this website which will connect writers with one another and provide links to subscriber websites.
Write Action supporters come from a wide geographical area, and Write Action relies upon its community of loyal donors.
Write Action is a nonprofit 501/3C corporation. Gifts are tax deductible.
To make a gift, use the online donation button at your right, or print out the form below and return it with your check to:
Write Action
PO Box 822
Brattleboro, VT 05302
Click here to download a printable pdf of our donor form.