Poems Around Town '22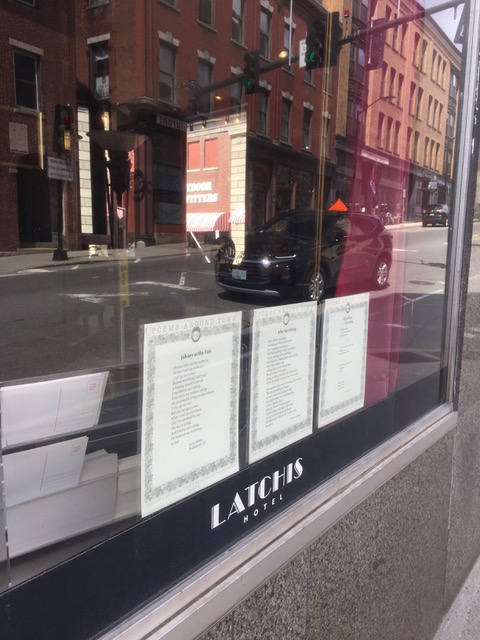 Press Release: Poems Around Town
Downtown Brattleboro will be awash in poetry this April when three local literary organizations present the second annual Poems Around Town. Organized by Write Action, with support from the Brattleboro Literary Festival, and Time To Write, over seventy poets from throughout Vermont, with a majority from the Brattleboro area and nearby tri-state region, will take part in this event that celebrates National Poetry Month.
There will be poems in the windows of over forty downtown establishments. Poems are displayed on beautifully designed broadside sheets, created by graphic artist Jim Brisson, and printed with the help of book entrepreneur, Andy Burrows.
The poems will hang in shop windows downtown throughout April. Later in the month there will be a Zoom reading, date TBA. PAT '22 will feature poems by some of the area's well-known and much published poets including Chard DeNiord, Diana Whitney, Tim Mayo, Terry Hauptman, and Sydney Lea, as well as those newer to the world of poetry.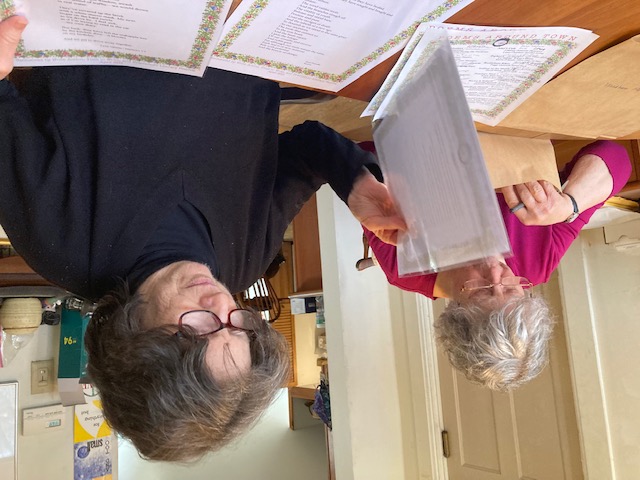 We invite you to take a poetry stroll with these insightful, evocative poems.
A site-guide will be available at the beginning of the month with name of the poet, and titles of poems at each venue. They will be left at key locations downtown, such as the Chamber of Commerce, Brooks Memorial Library, Everyone's Books, and the Brattleboro Food Co-Op.
For more information: info@writeaction.org, or go browse our web site.
Poets Included in the 2022 Poems Around Town
Click here for the full list of poets and locations.
Matty Adams
Mona Anderson
Brenda Beardsley
Michael Bosworth
Ed Burke
Kelly Burr
Andy Burrows
Lee Bramble
Elayne Clift
Stuart Copans
Nichael Cramer
James Crews
Vidda Crochetta
Maisie Crowther
Candace Curran
Chard deNiord
Arlene Distler
Jessica Dolan
Sarah Cooper-Ellis
Kathleen Fagley
Nye Ffarrabas
C Desiree Finley
Judy Fink
Robyn Flatley
Michael Fleming
Carol Hatcher-Flores
Robbie Gamble
Ginnie Goulet Gavrin
Ann Gengarelly
Connie Vial Green
Thomas Griffin
Sharon A. Harmon
Terry Hauptman
Kelly Hill
Jill Hinkley
Jenny Holan
Christine R Holderness
Nancy Hood
John Hunting Fales
Steven K-Brooks
Leslie L. Kinney
Netti Lane
Sydney Lea
F. W. Lee
Diana Lischer
Deborah Lee Luskin
Lynn Martin
Tim Mayo
Steve Minkin
Jennifer Minotti
Karen Morris
B Morrison
Pia Nanca
Helen Neswald
Catherine F. O'Callaghan
Don Ogden
Kevin O'Keefe
Nancy Olson
Toni Ortner
Peggy Outcalt
Eleanora Patterson
Kari Prindle
Verandah Porche
Louise Rader
Jennifer Razee
Elaine Reardon
Jennie Reichman
Maia Segura
K W Stine
Elizabeth Julia Stoumen
Lucy Tell
M. Underwood
Lynn Valente
JC Wayne
Diana Whitney
Winfield Marie Nuhfer